25 YEARS: FROM CRADLE TO Career
1
One Big Goal:
To break the cycle of poverty by sending every child in our neighborhood to college.
3
three things:
Mind, body, and heart. Holistic growth sets Urban Ventures apart.
5
five stages:
A cradle-to-career pipeline of support for kids and their families.
10
ten metrics:
We measure our progress and make adjustments to ensure success.
Milestones & HIGHLIGHTS:
A brief history: 25 years strong
celebrating remarkable outcomes
143
students enrolled in our summer program. 90% of post tests showed students successfully fought off the "summer slide" by maintaining or improving assessment scores in literacy and math.
85%
of seniors in Urban Ventures Young Life, our high school mentoring program, graduated on time (compared to less than 57% for students of similar backgrounds).
127
Act Six Scholars are attending or have graduated from six partner schools on full-tuition, full-need leadership scholarships worth more than $25 million over four years.
At only 15, Kia is thoughtful, driven, and wise beyond her years. "I really like to help people, so I want to do something that gives back and that not many people of color are doing. I want to set an example. You know, 'If I can do this, you can too.'"
Meet Angel, Alva, and Concepcion
Angel, Alva, and Concepcion are moms-to-be. For 12 weeks this spring, they learned more about pregnancy and newborn care at Urban Ventures' Center for Families. Along the way, they became a support system for each other in this exciting, yet uncertain, time of life, and once their babies are born, they have a community to lean on.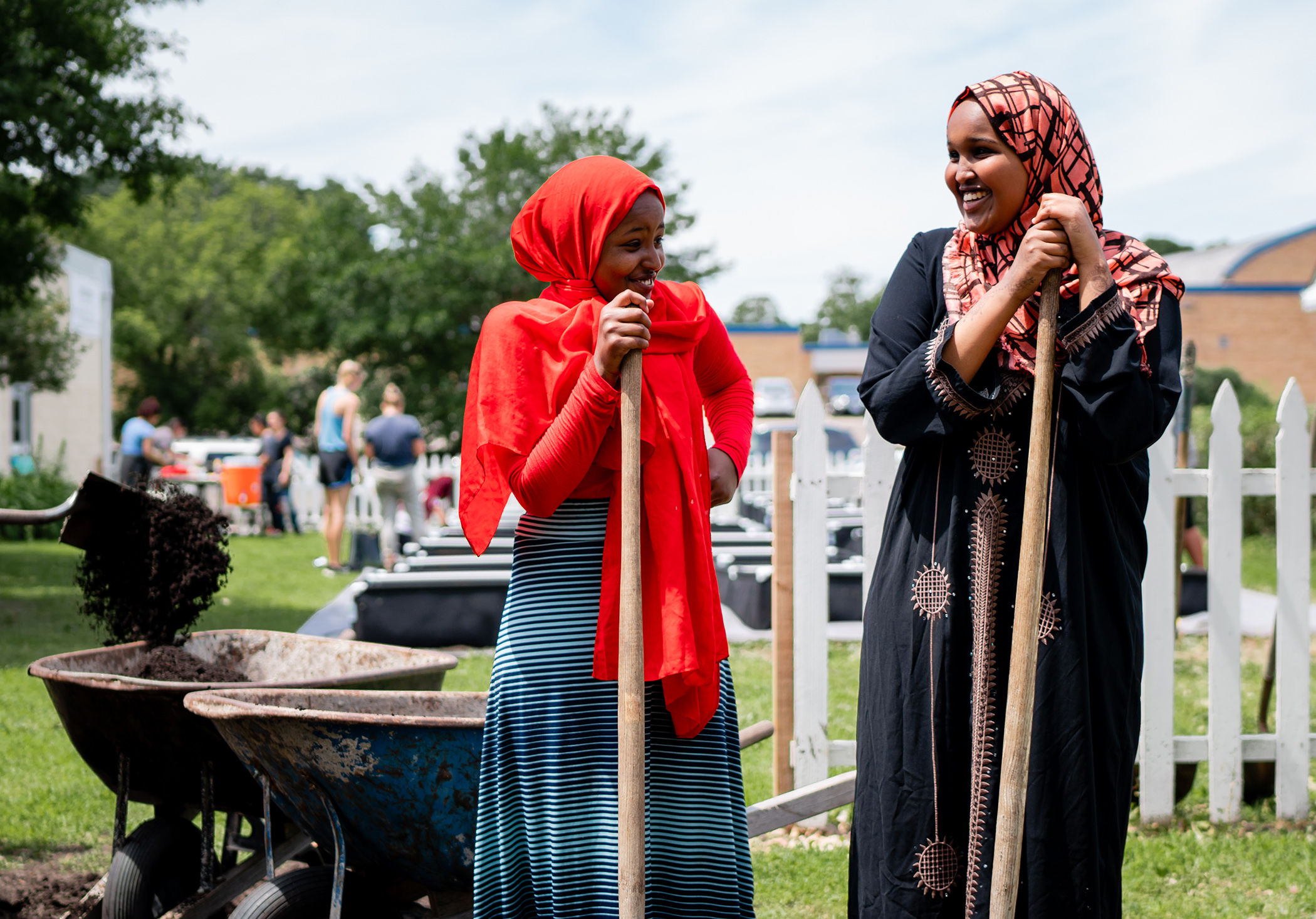 Green Central is one of two schools directly inside Urban Ventures' 25-block core focus area. The school is one of more than 80 academic institutions, government agencies, and nonprofit partners with which Urban Ventures has a referring relationship.
2018 Outputs + Outcomes
Our Work
a Look Inside: youth programs
1,055
youth served in 2018.
31
basketball and soccer teams used sports to build character.
1,267
music lessons and recording studio sessions.
2
Act Six scholarship recipients elected student body presidents.
a Look Inside: Family programs
234
households attended weekly programming as a family.
100%
report UV helped change their family's trajectory.
100%
report they improved their parenting skills.
90%
report spending more time reading to their kids.
a Look Inside: Community-building Initiatives
12,688
pounds of produce grown and distributed by 15 neighborhood youth through our urban farm.
319
households learned more about UV through our Family Fest and other outreach events.
1,118
households in our 25-block core area. All received information about UV and an invitation to join us.
81
nonprofit and community organizations with a cross-referral partnership.
Thank you for partnering with us
745
households, corporations, foundations, and churches donated in 2018.
494
volunteers served a record-setting 15,784 hours.
168
Urban Ventures Coffee Company partners.
October 25
Urban Ventures 25th Anniversary
$1,215,000 raised.
1,215 lives changed.
On October 25, 900 friends, neighbors, and colleagues gathered with the goal of raising $1 million. You blew past our goal and unlocked an incredible 465 new openings in Urban Ventures' cradle-to-career pipeline. Additionally, this fully funds the 750 children already engaged in Urban Ventures programs.
$0
in mortgage-related debt.
$4.41 M
in total revenue.
Thank you for an incredible 25 years!
Click on images to enlarge.